Meet new ABmunis board member Krista Gardner!
Our members elected two new directors to our board at Convention 2022. Last week, we introduced you to Bill Rock, Director of Villages East, and Mayor of the Village of Amisk. Today, we are introducing you to Krista Gardner, Director of Towns West, and  Councillor for the Town of Calmar.
Krista was first elected to town council in 2016. To help you get to know her better, we asked Krista a few questions. Here are her responses: 
What attracted you to join the ABmunis board?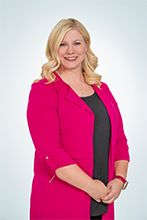 I was heavily involved in the Town of Calmar's Resolution submission on Brownfields at the 2021 Convention, including it's presentation on the Convention floor. That was a really eye-opening experience for me about what ABmunis does and all the work going on behind the scenes. I wanted to get more involved and decided to submit my papers, thinking I would build some name recognition and meet new people - I didn't actually think I would win! I'm thrilled to be part of the Board and am enjoying learning all of the things ABmunis does for its members.
What are you most proud of in your time in municipal politics?
One of my goals when I first ran for office was to increase the engagement of our residents with both our elected officials and our administration. I'm proud of the work the Town of Calmar has done in improving our communication and our openness to feedback. We are working hard every day to explain not just what we are doing, but the 'why' behind the decisions. How we engaged with our residents became even more important during Covid and now that we are back with full-scale in-person events, I am so excited about continuing to build a stronger, more connected community.
Which ABmunis services does the Town of Calmar use?  
We recently switched to ABmunis benefits for our staff. This was an easy win decision as we got better benefits for our staff at a lower overall price. The Town of Calmar has a new CAO and we are looking at how we can take advantage of the many other services ABmunis offers. 
What would you like your colleagues in other munis to know about ABmunis?
If you have a concern in your community, bring it to a Board Member or inquire with our staff. Most likely, other municipalities are experiencing the same challenges and many of them can be assisted with ABmunis services, advocacy work, or resources. ABmunis provides such a breadth of services. Definitely take advantage of the support they offer.
What excites you about the future of municipalities in Alberta?
We all know that municipalities are the level of government closest to the people. We do amazing things every day to make the lives of our residents better. I know we are facing new and ever more complex challenges but I'm confident that together, our members will be the ones to find solutions.