Meet new ABmunis board member Bill Rock!
Our members elected two new directors to our board at Convention 2022. This week, we introduce you to Bill Rock, Director of Villages East, and Mayor of the Village of Amisk.
Bill was first elected to village council in 2013. To help you get to know him better, we asked Bill a few questions. Here are his responses: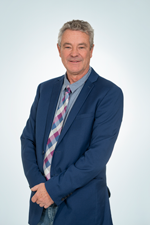 What attracted you to join ABmunis' board of directors?
I've been a council member for nine years now, and I've attended many conventions and events. Over this time, I've had the opportunity to witness the work that ABmunis does. Always being an advocate for our community, I saw this as a great opportunity to extend this advocacy whether it be in crime prevention or sustainability of small communities.
What are you most proud of in your time in municipal politics?
This past municipal election, our council was acclaimed. It's one of the only times that we have not had an election in the village of Amisk, so we must be doing something right! Over the past few years, I've been fortunate to work with both the Justice department and RCMP in the reduction of rural crime. I was heavily involved with the habitual offender program and awareness programs in crime reduction in small communities. Most recently, I've been advocating for increased funding for the sustainability of small communities, and awareness of what small villages and towns contribute to the betterment of all of Alberta. Oh, and after 40 years, we just built a new playground.
Which of ABmunis' services does the Village of Amisk use?
Our village uses not only the insurance agency of ABmunis, but also the employee benefit program and power program. As with many small villages, we take great advantage of the employee benefit program. Many villages have only two or three employees, and many of them are part-time, so this gives us access to benefits which aid in the retention of great staff. As for insurance, many communities have seen rather significant increases in their insurance policies. But with ABmunis, this has been a considerably more stable insurance, and it offers us peace of mind in knowing we are well insured. We have most recently moved our power supply contract over to ABmunis. Not only have we seen a considerable saving, but yet again we have the comfort of knowing that we are getting the best savings for our village.
What would you like your colleagues in other municipalities to know about ABmunis?
There is Strength in Members; you are not alone. ABmunis is working hard to advocate not only for the big cities but for the smallest village. Our business team is always working on ways to help our members receive the best services possible at fair prices, with the roll-out of our Cyber Security and IT services and energy efficiency programs to aid our communities. ABmunis is also advocating hard to see an increase in long-term sustainability funding so members can plan long term. Many of our members have been around for over 100 years and I know our association would like to see them all be around for another 100 years.
What excites you about the future of municipalities in Alberta?
Alberta is a great place to work, live and raise your families. Not only is it one of the best places in Canada, but in the world. This is due to the hard work of our members and their councils, and also the support of organizations like ABmunis. There is Strength in Members. Get involved, get excited and watch your efforts grow.