Driving strategic value via IT
The COVID-19 pandemic has accelerated digital and technology adoption in the Canadian public sector.
Municipal governments have pivoted and adapted quickly, equipping and managing a (now) hybrid workforce, and deploying online services and alternative payment methods.
For many organizations, the rapid adoption of new technologies often came at the cost of being able to fully learn and implement them. For example, many organizations use Microsoft Teams as a chat and videoconferencing platform, but don't know about (or make use of) its cloud storage and document collaboration capabilities.
While there is no 'one size fits all' approach to managing IT, the prevailing best practice is to 'do the basics well' and then execute transformational projects on top of that 'IT foundation'.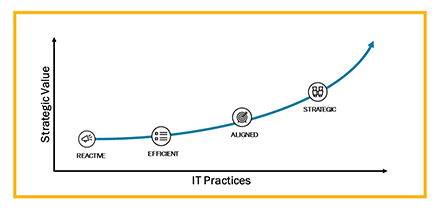 This illustration provides a conceptual model for how IT organizations can approach optimizing their IT practice(s) to drive greater strategic value.
Reactive – responding to IT needs and requests as they come up.
Efficient – having a systematic approach to managing known issues and emergent items.
Aligned – tracking and managing IT services against measures and taking steps to actively support and enable business operations.
Strategic – driving operational excellence and playing a strategic role in driving innovation in the business environment.
As organizations become aligned and strategic in their IT practices, they can drive operational efficiencies (e.g., increased staff productivity), reduce risk, garner greater value out of existing technology investments, and be an enabler. Moreover, they are better positioned to take on strategic and transformational projects.
For more information on how IT organizations are driving greater strategic value out of their information technology please contact DanB [at] abmunis.ca (Dan Blackburn), Senior Director of Growth & Innovation.