Board member profile: Tyler Gandam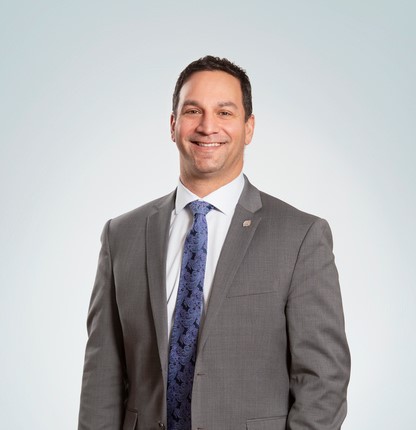 Tyler is our Director, Cities up to 500,000. He is also a governor of our wholly-owned business arm, Alberta Municipal Services Corporation (AMSC). He has been a member of Wetaskiwin City Council since 2013, first as a councillor and now as a second-term mayor.
What attracted you to join the ABmunis board?
The thing that stood out to me as a newly elected councillor (2013 term) was how friendly and outgoing the board was. I had no idea what the association was all about. The more I got to know the board members, the more I wanted to work with them and help municipalities. I want to be a board member who builds up other members of a council, the way I was at the City of Wetaskiwin. I want to make sure they know their voices are heard and continue the advocacy work through Alberta Municipalities.
What are you most proud of in your time in municipal politics?
There have been a few things, but the one that sticks out the most is the progress we've made with our vulnerable population. Wetaskiwin has always had a large number of unhoused people and we have made significant improvements in supporting them.
Which of Alberta Municipalities' products & services has your municipality taken advantage of? Why? What value have you received from them?
Wetaskiwin takes advantage of a number of services including insurance, power, gas, benefits, legal and soon, the Clean Energy Improvement Program (CEIP). Our local Heritage Museum also gets its insurance through Alberta Municipalities. Price is the biggest advantage, but ABmunis' employees take exceptionally good care of city staff to ensure their needs are met.
What would you like your colleagues in other municipalities to know about ABmunis?
I'd like them to know that we're always there to help. Board members offer support to other elected officials; it isn't limited to whoever their representative is. The bigger communities are eager to meet with the smaller communities and vice versa. Alberta Municipalities' staff are also a tremendous resource and are available to help your organization's staff. Don't be afraid to reach out! 
What excites you about the future of municipalities in Alberta?
I'm excited about how the dynamics of municipalities are changing. As you look around the room – whether it's in your own council chambers or an Alberta Municipalities' event – the people sitting in those seats differ from the ones who sat there 10 years ago. I also think those of us who work in municipal government realize how crucial we are to creating and maintaining efficient, healthy, and vibrant communities.