Board member profile: Tanya Thorn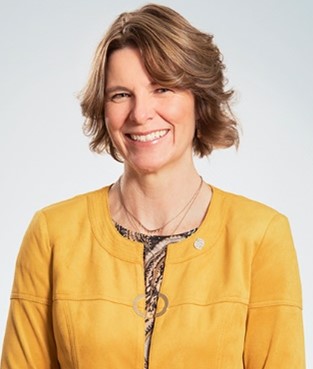 In the first of our Alberta Municipalities Board member profiles, we interview Tanya Thorn.
Tanya represents Towns South on the Alberta Municipalities Board and is the Chair of our wholly-owned business arm, Alberta Municipal Services Corporation.
She was elected to the Town of Okotoks' council in 2013 and won the mayoral election in October, 2021.
What attracted you to join ABmunis' board of directors?
When I ran for the Board, I really did not know exactly what it entailed. We had a new CAO and she felt that it would be a good opportunity for someone on Council to gain a wider view on the work of other municipalities. I volunteered to run at the 2016 convention.
I do recall my complete shock when I discovered I had to give a speech the day before the elections.
What are you most proud of in your time on the board?
Trying to name one thing is hard. I think for me it is how we have raised the profile of Albert Municipalities – not only with our members but with the broader stakeholders.
We have worked on so many key initiatives since 2016 and how we have positioned ourselves to take a principled approach to complex problems and how we are always open to presenting solutions.
Which of our products & services has your muni taken advantage of?
At the Town of Okotoks, we use a variety of services provided by Alberta Municipalities, such as Insurance, Retirement Services, and Energy. 
We have appreciated the stability of the insurance rates ABmunis provides our organization. Being part of the insurance reciprocal helps us as an organization as we do not experience the extreme swings that have been occurring in Alberta's insurance industry.
We appreciate the high level of service and professionalism we receive from the Alberta Municipalities staff.
What would you like your colleagues in other munis to know about ABmunis?
I am always amazed at the breadth of services that Alberta Municipalities provides for our members. I think the key message our members need to know is that being a member-based organization, using our services is an investment in their membership – whether that comes in the form of additional advocacy on key issues, risk mitigation, or the ability to stabilize pricing.
Our organization's focus is on the members. By building on our strength, we can help provide great value to every one of our members.
What excites you about the future of municipalities in Alberta?
Municipalities are the most connected and responsive level of government. We tend to be focused on solutions and finding creative ways to deliver high quality of life to all of our residents. I think the municipalities are going to be a key driver to find effective solutions to many of the complex problems we face.
I am excited to see how we evolve, adapt, and continue to provide opportunities for our citizens to build the lives they desire across our Province. Our members' combined strength is going to see us well into the future!