Board Member Profile: Dylan Bressey
Dylan Bressey is one of three Directors of Cities up to 500,000 on the Alberta Municipalities Board. Dylan is also the Chair of ABmunis' Audit & Finance Committee and sits on the Board of Governors for ABmunis' wholly-owned subsidiary, Alberta Municipal Service Corporation (AMSC) in addition to the AMSCIS & MUNIX Boards. He is a Councillor for the City of Grande Prairie.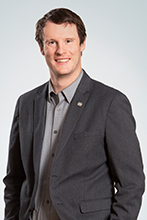 What attracted you to join the ABmunis board?
Municipal government plays such an important role in creating great quality -of -life for residents and growing our economy. The job of a municipal leader is becoming increasingly complex and contentious. I wanted to be a part of supporting elected and administrative leaders through advocacy, training, building professional networks, and providing excellent corporate services.
What are you most proud of in your time in municipal politics?
I'm very proud of Grande Prairie's aggressive approach to addressing mental health, addictions, and chronic homelessness challenges. We've had strong buy-in from government, non-profits, and the business community to our Opioid Response Task Force and its initiatives. We've established a Mobile Outreach Program to dispatch social workers rather than police to certain mental health and social disorder calls. We are establishing a modern police service in part to better support a holistic approach to community safety.  This year, we are fully opening two supportive housing projects to give people an opportunity to move from chronic homelessness towards health and independence. We're helping residents who find themselves in very troubling circumstances by taking a compassionate and cost-effective approach to these complex problems.
Which of Alberta Municipalities' products & services has your municipality taken advantage of?
Our municipality uses a variety of corporate services offered by Alberta Municipalities. I'm most excited about Grande Prairie's participation in the first round of Power+. Rising and unpredictable costs are introducing significant budget pressure across our organization. To have a discounted electricity rate locked in is a huge help!
What would you like your colleagues in other municipalities to know about ABmunis?
We've collected and developed an INCREDIBLE staff. Both on the advocacy/policy side and the corporate services side of our operations. They are very passionate and knowledgeable about the operations, opportunities, and challenges of municipalities. If your municipality is ever struggling to find information or figure something out:, our team can be an incredible resource for you.
What excites you about the future of municipalities in Alberta?
From our experienced veterans to our newest elected officials and administrators: I'm blown away by the knowledge, talent, and dedication I see every time I participate in municipal meetings. We have got interesting and great people building local communities across Alberta.