2022: The unified voice of municipalities was heard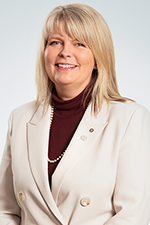 With the winter holidays in sight and a new year just around the corner, I've been reflecting on 2022 and Alberta Municipalities' accomplishments over the past 12 months.
It's safe to say 2022 was an improvement over 2021, and infinitely better than 2020! Alberta's economy improved steadily throughout 2022, despite a series of interest rate hikes and inflation. Little by little, life returned to something that resembles 'normal,' with all that entails – in-classroom learning, extra-curricular activities, in-person meetings and socializing with friends and family. Once again, I was encouraged by the great resiliency, commitment and collaboration our member communities showed in the face of adversity.
Here are Alberta Municipalities' 2022 highlights from my perspective as President. Enjoy!
Policing & Public Safety
Alberta Municipalities continued challenging the provincial government on its dogged pursuit of a provincial police service throughout 2022. In March, members voted overwhelmingly against supporting the Government of Alberta's proposed transition plan from the RCMP to an Alberta Provincial Police Service (APPS). In September, ABmunis called for the provincial government to pause its efforts to create an APPS and convene a public safety task force. The root causes of crime, which include poverty, homelessness, mental health issues and addictions, need to be thoughtfully considered and addressed. Alberta's chronically under-resourced and overwhelmed judicial system isn't helping matters, either.
We've been invited to participate in an APS working group and are working to make sure that the working group meets our interests. Above all, we want to ensure Albertans' public safety needs are met, now and in the future. We also want to ensure policing costs neither increase nor are downloaded to local governments and, ultimately, Albertan taxpayers.
Emergency Medical Services (EMS)
Alberta experienced an unprecedented 30% increase in calls for emergency medical services (EMS) over the past two years, largely due to opioid use and the COVID-19 pandemic. These systemic issues and increased demand have resulted in further deterioration in ambulance response times, including rotating periods of no response (aka 'code red' or 'red alert') around Alberta.
From February to September 2022, I represented ABmunis on the Government of Alberta's EMS Provincial Advisory Committee. We met regularly to review policies and procedures, identify issues, develop strategies, and make recommendations to the Minister of Health. The EMS Provincial Advisory Committee's final report, which includes long-term recommendations, was submitted two months ago. I fervently hope it will be shared with Albertans before December 31.
Alberta Health Services' 10-point plan to add capacity and ensure the most critical patients receive immediate care has helped somewhat. While ABmunis welcomes the addition of more than 160 paramedics and 19 ambulances to our provincial EMS system, more needs to be done.
Infrastructure Funding
We worked tirelessly throughout the year to ensure the Local Government Fiscal Framework (LGFF) that is set to replace Municipal Sustainability Index (MSI) in 2024 will work for all our member communities. In November, ABmunis submitted its recommendations to Municipal Affairs. We conducted two online members-only seminars on LGFF in late November to ensure everyone has a good understanding of what we've proposed. Our goal: ensure that summer villages, villages, towns, cities and specialized municipalities receive sufficient provincial funding to remain viable and thrive.
We are under no illusion that ABmunis' work to secure stable, predictable and sufficient long-term funding from the provincial government to municipalities for infrastructure, programs and services will end in 2023. To succeed, we must continue pressing the Government of Alberta on this vitally important issue. The success and well-being of Albertans is at stake.
Extended Producer Responsibility (EPR)
After three years of advocacy by ABmunis and its members, the Government of Alberta introduced Extended Producer Responsibility (EPR) regulations in October 2022! These regulations mark an important milestone as municipalities begin planning to hand over responsibilities for the collection of designated recyclable material.
By April 1, 2025, all single family and multi-family dwellings currently receiving recycling collection services should shift from municipally operated to producer operated. By April 1, 2026, any single family or multi-family dwellings currently not receiving community collection services should have an available service.
Our newly formed Local Government EPR Working Group will continue working with the provincial government and other key stakeholders on this important issue in 2023.
Broadband service
Many of you will recall that members passed a resolution at our 2021 Convention calling on the provincial government to take tangible steps to address the lack of reliable high-speed Internet in Alberta. In early 2022, the provincial government introduced its Alberta Broadband Strategy – a plan to connect 400,000 underserved households in Alberta. The Government of Alberta's 2022 budget included $390 million in funding for broadband projects. Soon after, the Government of Canada announced that it would match the provincial government's funding, bringing the total funding available for Alberta broadband projects to $780 million.
We applaud this historic investment in the expansion of broadband service in Alberta. Still, questions remain about timelines and eligibility for more provincial funding to deliver high-speed Internet services to smaller and more remote communities that have yet to receive it. ABmunis will continue to pursue answers and funding from the provincial government in 2023.
2022 Convention & Trade Show
For the first time in five years, ABmunis held its annual Convention & Trade Show in person in Calgary. Nearly 1,200 members, 80 speakers and 120 vendors participated in the association's marquee event in late September. It was great to reconnect with so many of you, and I look forward to seeing you again at next year's Convention & Trade Show in Edmonton in September 2023.
'Future of Municipal Government' initiative
I want to highlight the important 'thought work' that our association is doing via its 'Future of Municipal Government' initiative. The papers produced thus far, in partnership with the University of Calgary's School of Public Policy, have explored important topics and generated discussion on municipal governance, demographic trends, and infrastructure funding. I'm pleased to say that more than 300 members took part in one of our FOMG webinars.
Together, we are helping chart the course of municipal governments in Alberta for decades to come.
Power+ Launch
This spring, we enthusiastically launched our newest service offering, Power+, an innovative and long-term solution to meet electricity needs. We are proud to report that the response was tremendous. Power+ attracted over 120 municipalities and not-for-profit organizations. We were able to establish a large buying group, disrupt the typical energy purchasing process and access energy pricing right from its source, providing significant cost savings to our members.
As our team moves forward with a trade-compliant, multi-stage procurement process, we will update participants on the progress we make.
Our commitment to cost savings & budget certainty
In recent years, the insurance market has experienced significant volatility and substantial premium increases, impacting insurance and employee benefits premiums. During this time, our focus has been to provide stability in your rates well below what other providers offer.
Our Insurance & Risk Services offset premiums by providing a rebate of $3.5M in 2022 to shield members from market shocks, dramatic premium increases and delivering budget stability.
Our Employee Benefits renewal rates increased an average of just under 7% in 2022, well below market pricing. Our commitment to sustainable plans allows our members to avoid the significant fluctuations witnessed in the marketplace year to year.
As our team is planning for our 2023 renewal, our commitment to you remains the same. We will work with you to answer any questions and additional needs you may have.
Clean Energy Improvement Program
Our Clean Energy Improvement Program (CEIP) continued to make great strides by adding to the number of participating municipalities. This program is an innovative financing tool that enables residential and commercial property owners to access flexible, long-term financing through their municipality, improving their ability to pay for energy efficiency and renewable energy upgrades.
In 2022, eight additional municipal councils passed a clean energy improvement tax bylaw and seven additional active programs were launched. I look forward to watching this program continue to grow in 2023.
Closing remarks
As our Year in review webpage clearly shows, ABmunis faced plenty of challenges and achieved notable success in 2022. I'm very pleased with how things went last year, and I look forward to working together with you – our members – to accomplish much more in 2023.
Alberta Municipalities. Strength in Members.