Alberta Provincial Police Service
The Government of Alberta is exploring the creation of an Alberta Provincial Police Service (APPS) to replace the RCMP as the provincial police service. Justice and Solicitor General is engaging directly with municipalities on this topic, so Alberta Municipalities has developed resources to support member participation in these engagement sessions.
Background
In November 2019, Premier Jason Kenney established the Fair Deal Panel to assess whether Alberta is being treated equitably compared to other provinces within Canada. The panel conducted public hearings from December 2019 to February 2020 and released its final report in June 2020. The report included a recommendation to create an APPS to replace the RCMP. The province's response to the report indicated that further analysis and work was required before this recommendation could be implemented. The province subsequently awarded $2 million to PricewaterhouseCoopers (PwC) to develop a feasibility study on establishing an APPS.
The PwC feasibility study was officially released on October 29, 2021. The study consists of three separate reports:
The APPS Transition Study Final Report, which provides an executive overview of the current state of policing in Alberta and the proposed APPS model.
The APPS Current State Report, which explains the current state of policing in Alberta, including information on costs, deployment, compensation, equipment, shared services, etc.
The APPS Future State Report, which explains the proposed APPS service delivery model and includes recommendations related to governance, deployment, costing, training, etc.
The PwC feasibility study does not provide a formal stance or recommendation on establishing an independent APPS; instead, it lays out a framework for how such a service could be implemented. Alberta Municipalities has created a report that provides an overview and analysis of the PwC feasibility study and highlights key questions and areas of interest for municipalities.
On August 17, 2022, Justice and Solicitor General released a report on a potential Alberta Provincial Police Service (APPS) deployment model. This report, prepared by PricewaterhouseCoopers (PwC), is part of the larger APPS transition study. The deployment model prioritizes improving policing services to rural, remote, and Indigenous communities; however, the report does not specify locations for the proposed detachments. The report also does not provide any further updates on the costs of an APPS, nor a potential police funding model. Alberta Municipalities has completed a summary and analysis of this report (see Reports and Resources).
Justice and Solicitor General held 43 in-person and virtual engagement sessions with municipalities between January 10 and April 1, 2022. The Minister has continued to meet with individual municipalities over the summer 2022.
Alberta Municipalities hosted the 2021 President's Summit on Policing as two virtual sessions in February 2021. At the end of the sessions, attendees were surveyed about their thoughts on establishing an APPS.
The survey results indicated strong support for retaining the RCMP as Alberta's provincial police service. Although attendees indicated that they favoured improvements to RCMP governance and service levels, the majority disagreed that an independent APPS would better meet their communities' need than the current policing model with respect to service levels, local governance and oversight, and operating costs.
After the 2021 President's Summit, the Alberta Municipalities Board chose to postpone announcing a policy position related to an APPS until the PwC study was made available for review. In preparation for this announcement and any subsequent advocacy, the Alberta Municipalities Board approved a set of principles that reflect municipal priorities and would apply to any provincial police service provider.
After the PwC feasibility study was released in October 2021, Alberta Municipalities prepared a summary and analysis of the PwC study, along with some key questions and messages for members use. After JSG announced plans to engage with municipalities in early 2022, we hosted a virtual policing summit on January 19, 2022, to help prepare members for these JSG engagement sessions. During our Alberta Municipalities virtual summit, we:
Provided an overview of the PricewaterhouseCoopers (PwC) feasibility study and proposed APPS service delivery model;
Shared our analysis the PwC study to our Alberta municipalities policing principles; and
Gathered feedback from members on outstanding questions and concerns arising from the PwC study.
Following the online seminar, we updated our list of key questions to reflect what we heard and shared it with members. We also worked with our policy committees to draft a Request for Decision opposing the proposed APPS. This RFD was brought to the Spring 2022 Municipal Leaders' Caucus, where an overwhelming majority of members voted to adopt it. A copy of the RFD was sent to the Minister of Justice and upon receiving the Minister's response, the Alberta Municipalities Board decided to pursue the following actions:
Continue to attend provincial engagement sessions and share member feedback with Justice and Solicitor General.
Conduct media interviews to raise awareness and improve understanding of this issue among municipalities and other stakeholders, as well as regular Albertans.
Create a series of social media posts on Twitter and Facebook to share the questions we have about the proposed APPS.
Continue to highlight this issue in meetings with the Minister and Justice and Solicitor General staff.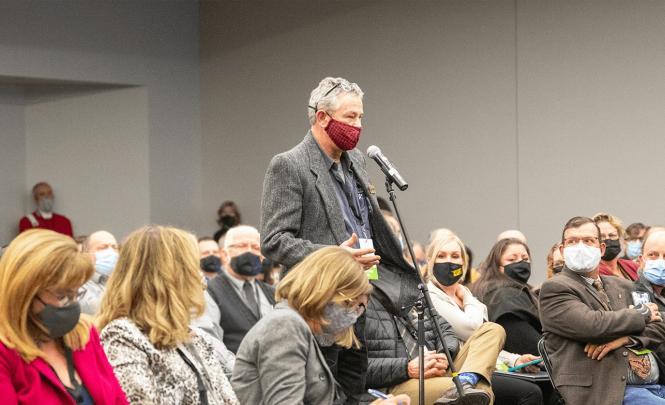 How you can help
Attend a provincial engagement session and share your thoughts.
Use Alberta Municipalities key questions when speaking to local media.
Share Alberta Municipalities social media posts.
Watch for media reports and further updates from Alberta Municipalities.