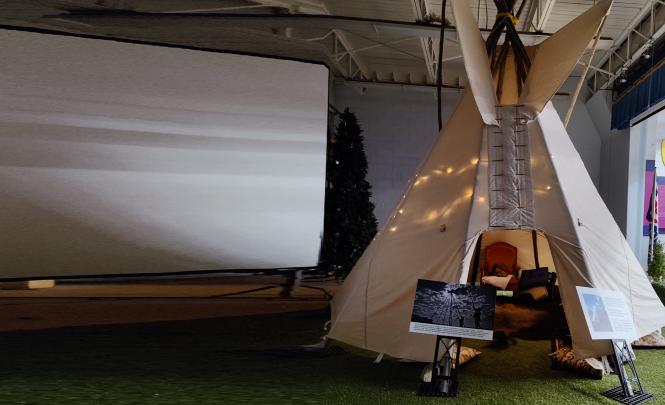 "Tansi! I had a great experience volunteering at the Bent Arrow Traditional Healing Society. I was able to meet and work with some of their amazing staff, elders and in the process learn more about the indigenous culture. Hiy hiy." - Anita Sookar, Governance Coordinator at ABmunis
Bent Arrow 2023
Similar to the previous year, approximately 20 individuals from Alberta Municipalities participated in a collective volunteering initiative in June for the Bent Arrow Traditional Healing Society. June is recognized as National Indigenous History Month, which includes significant celebrations like National Indigenous Peoples Day and the Bent Arrow Culture Camp. Engaging in this volunteering opportunity is one of the numerous ways Alberta Municipalities demonstrates its ongoing support and appreciation for the Indigenous Communities around us.
Edmonton Food Bank 2022
On December 13, 2022, 28 Alberta Municipalities employees proudly volunteered their time to a great cause.
The Edmonton Food Bank is Canada's first and oldest food bank. With the support of the community and community builders, it provides food to over 30,000 people each month.
Our volunteers were separated into different groups to help in different ways, from checking and sorting products to giving out hampers.The warehouse was alive with many other groups of volunteers and Christmas music that made the afternoon both incredibly rewarding and fun!
In addition to once again giving our time and labour to a worthy cause (some of us volunteered there in 2021), we donated the money raised from the social committee and matching funds from ABmunis.
Thank you, Food Bank Edmonton, for having us!
Bent Arrow 2022
About 20 employees took part in a group volunteering event for the Bent Arrow Traditional Healing Society this June. Alberta Municipalities uses this as one of many options to support the understanding and experience of the Indigenous Communities around us and Truth and Reconciliation. 
About Bent Arrow: Bent Arrow is committed to building upon the strengths of Aboriginal children, youth and families to enable them to grow spiritually, emotionally, physically, and mentally so that they can walk proudly in both the Aboriginal and non-Aboriginal Communities. For more information on the Society, you can check out their website at https://bentarrow.ca/